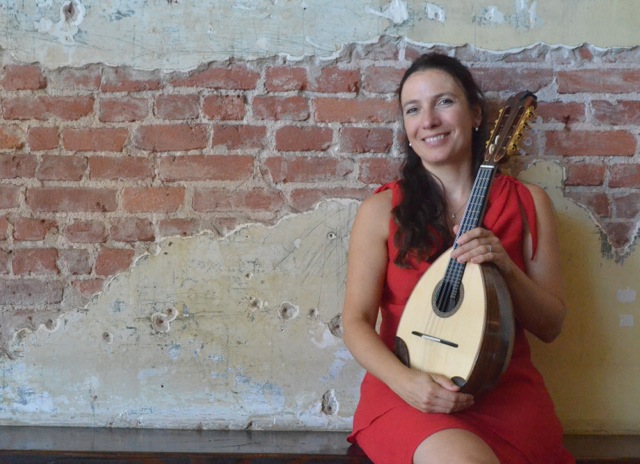 Caterina Lichtenberg is one of the most important classical mandolinists in the world today. Raised in Germany, Caterina graduated with highest honors from the Music Conservatory in Cologne. She now holds the position of Professor of Classical mandolin/Soprano lute at that prestigious institution. (The only position of it's kind in the world today)
For over 20 years Caterina has been recording, teaching and touring throughout Europe, Japan, Taiwan, South America, Canada and the U.S. to rave reviews.
In January of 2016 Caterina was signed to the Artist Works online teaching school as the Classical mandolin teacher. Mrs. Lichtenberg collaboration with American mandolinists Mike Marshall brought together two of the greatest mandolinists in the world. Their first recording blurred the lines between their classical, jazz, bluegrass and Brazilian musical backgrounds. Their second release were duets by Johann Sebastian Bach (The Two Part Inventions, Organ Duets and Canons) on mandolin and Mandocello was released in 2015.
To date Caterina Lichtenberg has released 10 CDs under her own leadership in a variety of chamber music settings, five with guitarist/lutenist Mirko Schrader. As a specialist on early period instruments, Caterina was invited to record on a 1775 mandolin from the Ferdinandeum Museum in Innsbruck in Austria.
As a featured soloist Mrs. Lichtenberg has performed with the New Century Orchestra under Nadja Salerno-Sonnenberg, the LA Guitar Quartet, the Brandenburgisches Staatsorchester Frankfurt, Germany under Diego Fasolis and the Aachen Chamber Orchestra. She has also performed with the Dresden Symphony Orchestra, the MDR Orchestra under Fabio Luisi, the Leipzig Gewandhaus Orchestra under Riccardo Chailly, the MDR Sinfonie Orchestra under Howard Arman, the Radio Symphony Orchestra of Berlin and the Bavarian Radio Symphony Orchestra under Lorin Maazel, with Brigitte Engelhard (harpsichord), Thomas Mueller-Pering (guitar) and with Art Garfunkel on live German TV.
Caterina has performed at The Carmel Bach Festival, Rockygrass Bluegrass Festival, Festival de Mandolins de Lunel, France, The Savannah Music Festival, Baroque Festival in Santa Cruz CA, the Euro Festival of Plucked Instruments (Germany).
She has also been a juror and a sought after lecturer at the The Mandolin Symposium in Santa Cruz CA (USA) the European Plucked String Orchestra in Logroño (Spain) and Bologna (Italy), The International Mandolin Festival in Kobe (Japan), The International Mandolin Convention in Washington and Minneapolis (USA), The Domaine Forget Music and Dance Academy (Canada), The Guitar Festival in Nürtingen, The Swannanoa Gathering in Asheville, North Carolina (USA), and The International Mandolin Convention in San Diego CA (USA)
Caterina has also published her own instructional books and filmed two DVD videos for the Homespun music education company.
She currently lives part time in both Germany and California.